Radon Testing in the Lehigh Valley, the Main Line, & Montgomery County
Radon gas measurement specialists providing testing services
There are a few different ways you can identify whether or not radon is currently lurking in your home. For those of you buying or selling a home, it's imperative you have a radon test done. This will help you avoid any complications after the transaction. While there are tests that you can purchase in big box stores, you need to keep in mind certain details:
For starters, lab test fees are not included in most of the retail radon kits available.
Next Step Environmental Services' radon testing kits have a 100% money back guarantee.
We provide phone and live chat support for our kits.
The cost of a retail radon test kit is not credit toward any radon removal services.
Our radon testing kit costs are 100% credited toward any newly designed radon mitigation system you may require.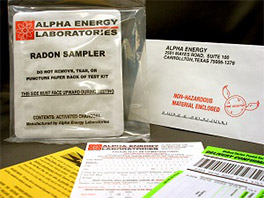 Are you at risk from radon? A radon test kit can accurately measure the concentration of radon gas in your home to determine if mitigation is necessary.
CRM radon testing steps:
Step 1: Contact Us For An Appointment
Next Step Environmental Services offers comprehensive radon testing and radon inspection services. Call us at

1-844-405-8999

to schedule your appointment.
Step 2: Setting Up the Test


Your radon kits will come with some simple instructions that you can follow. Setting up a radon test is easy, and should take no longer than a few minutes of your time. Be sure to pay special attention to instructions that mention closing windows and doors, and locating the test kit in the lowest area of your home (very often the basement).

Step 3: The Results
Our radon test kits provide accurate and guaranteed radon readings in as little as 24 hrs once the lab receives the kit. While all home kits come with similar collection canisters it's the caliber of the lab test which insures an accurate result.
What to do if test results show high radon levels in your home
How high your radon levels are in the home will be a determining factor on whether or not you decide to take further action in your home. After completing an inspection, we can determine the proper size, location, and design of a custom radon mitigation system. Get started and schedule your radon test today in King of Prussia, Quakertown, Philadelphia, Bethlehem, Pottstown, Collegeville, Easton or nearby.
Next Step Environmental Services also provides HUD multi-family radon testing and mitigation. HUD's multi-family radon policy requires that all radon testing and mitigation be performed by a certified radon professional.
Looking for a price? Get a no cost, no obligation free estimate.